Training: Communication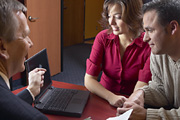 Whether you're speaking to one or one thousand, your ability to get your message across is key to your success.
When we talk with others, we want something to be different afterward. For instance,we may want them to:
Make a decision
Take action
Be more informed
Consider alternatives
Feel differently
See you in a different light
See themselves in a different light
How you communicate makes a difference in how others respond!
Let us help you with all your communication training needs. We have a variety of communications workshops that address basic communication, presentation skills, listening, behavioral styles, and more.
We'll work with you to determine your specific needs and then design training or other interventions that will help move your employees toward more effective communication–with each other and with your clients!
Contact us for more information.