Online Learning
E-learning, CBT, or online learning.
Whatever you call it, it makes sense for today's workforce. With the demands on employee's time and human resources budgets, online learning is a great way to provide training.
Whether you choose a complete online experience or combine online and classroom instruction for a "blended" approach, these courses will enhance the skills of your workforce! We invite you to "test drive" some of our courses to see if they're a good match for you or your employees!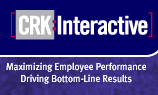 This line-up of e-learning courses offers training in Interpersonal Communication,
Leadership, Customer Service, and Sales. In addition, CEU credits are available for all course titles.
Click here to register for the free course demos.


These online courses are eligible for college credit or CEUs and are available in the following categories: Leadership, Customer Service, Sales, and Skills for the Administrative Professional.
We feature a different course for preview each quarter. Click here to register for the current course preview.
Contact us for more information about bringing online learning to your organization!